Volume 17:1, Winter 2016
Some Of Us Press Issue
Preface by Kim Roberts
At first, I thought of this special issue merely as documenting the history of one small press located in Washington, DC. But the more I thought about it, the more I realized that the issues raised were much larger than that.
Some Of Us Press is emblematic of, and one of the best representations of, the Small Press Movement of the 1970s as a whole. The idea was radical: that the mainstream publishing industry was too conservative, and that writers whose voices would never be accepted by the big houses could bypass them entirely, and simply publish one another. The best of the small presses were experimental, flexible, and varied in their publications. SOUP, for example, published poets who were writing new work that was deeply personal, or pushed free verse to new places. Poems in the series were often political, anti-war, feminist, or openly gay. Some of the writers were immigrants or the children of immigrants, and writing about redefinitions of what it meant to be American. All are filled with an exuberant sense of possibility.
All SOUP writers were asked to give up royalties on their books so the total made in sales could go toward publishing the next author in the series. This cooperative arrangement was also a new idea, and gave the poets a greater sense of commitment to the goals of the press.
For most of these writers, their SOUP books were their first publications, launching them on careers as writers, teachers, and publishers. That many of these writers are now retiring from eminent careers made the timing for this issue seem all the more important.
What amazed me, reading through the books, is how consistently high the quality is: the poems continue to deserve a readership. Eighteen authors were published by SOUP. I have reprinted poems from thirteen SOUP books.
Thanks are due to several people for making this issue possible. I first conceived of this special issue in talks with stevenallenmay; I thank him for his encouragement. For permission to reprint poems by Ed Cox, and for sheer expansiveness of spirit, I thank Ed's sister, Laura Lunsford. For permission to reprint poems by Tim Dlugos, I thank his partner, Christopher Wiss. Jesse Winch and Terence Winch were of particular help in providing period photos.
Most importantly, I am grateful to the surviving press founders, Michael Lally, Terence Winch, and Ed Zahniser, for the model they have provided to all of the small press publishers who came in their wake, and their ongoing support and enthusiasm.
Note: See also an article originally published in the Washington Post, "SOUPing Up the Washington Poetry Scene" by William Niederkorn, June 27, 1973 that was re-published in The Literary Organizations Issue, Volume 11:2, Spring 2010. Also of interest: Ed Zahniser wrote "Into Our Own Hands: A Report from Some Of Us Press" that was published in February 1974 in Margins. A reprint of that article can be found online at DC Poetry.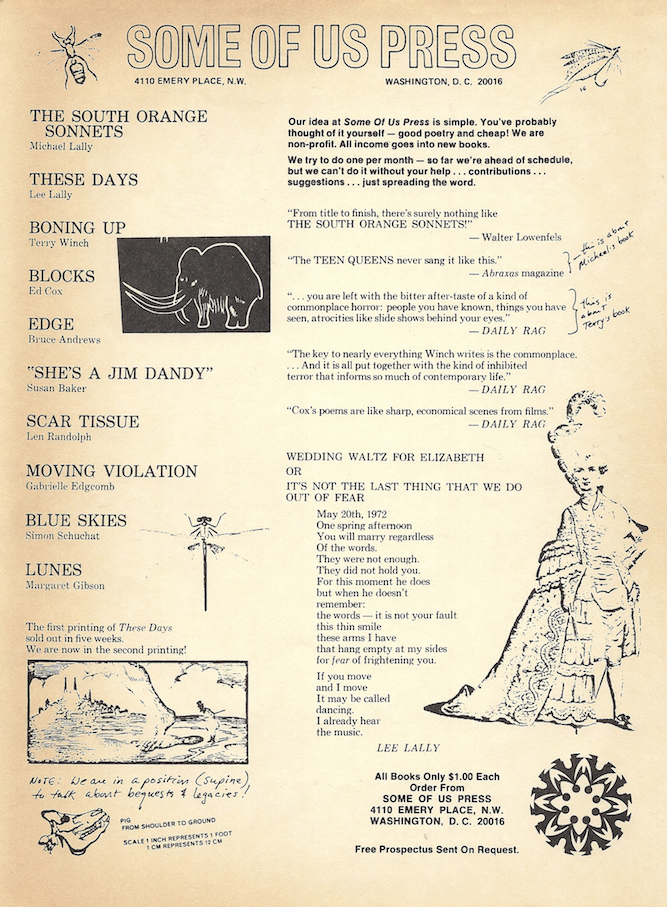 Kim Roberts is the editor of the anthology By Broad Potomac's Shore: Great Poems from the Early Days of our Nation's Capital (University of Virginia Press, 2020), selected by the East Coast Centers for the Book for the 2021 Route 1 Reads program as the book that "best illuminates important aspects" of the culture of Washington, DC. She is the author of A Literary Guide to Washington, DC: Walking in the Footsteps of American Writers from Francis Scott Key to Zora Neale Hurston (University of Virginia Press, 2018), and five books of poems, most recently The Scientific Method (WordTech Editions, 2017). http://www.kimroberts.org