The Editors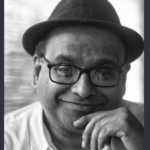 Indran Amirthanayagam, Editor, writes poetry in English, Spanish, French, Haitian Creole. and Portuguese. He is the author of twenty books of poems, including the newly released Blue Window/Ventana Azul (trans. Jennifer Rathbun,  Dialogos Books, 2021), The Migrant States (Hanging Loose Press, 2020), Coconuts on Mars (Paperwall, 2019), Uncivil War (Mawenzi House, Canada, 2013), and the Paterson Prize-winning The Elephants of Reckoning (Hanging Loose, 1993). Amirthanayagam has received a Foundation For The Contemporary Arts (2020) grant in poetry. He is a past fellow of the New York Foundation for the Arts, the US/Mexico Fund for Culture, and the MacDowell Colony. He directs "The Poetry Channel" on Youtube.https://youtube.com/user/indranam. He co-directs the association of literary translators, DC-ALT. His website: www.indranmx.com. You can follow him on Instagram @Indran1960 and Twitter @indranmx.
Sara Cahill Marron, Associate Editor, is the author of Reasons for the Long Tu'm. (Broadstone Books, 2018), Nothing You Build Here, Belongs Here (Kelsay Books 2021), and Call Me Spes (MadHat Press 2022). Her poetry has been published in many journals and anthologies viewable at  www.saracahillmarron.com. For help with poetry (or other manuscript-length projects of creative fiction and non-fiction) please reach out to her on Instagram @filipoet @fixmywriting or through her website.
Renee Gherity, Associate Editor, moved to the Washington, DC area after graduating from Mitchell-Hamline School of Law in St. Paul, Minnesota.  Her writing focus has changed from briefs to poetry.  Her work has been nominated for a Pushcart Prize and has appeared in Poet Lore, Innisfree Poetry Journal, The Adanna Literary Journal, The Ekphrastic Review, and other journals.  She is an original member of the DC area Surrey Street Poets and contributing author to their anthology, 50 Years of the Moose, honoring Elizabeth Bishop, forthcoming in late 2022.  She is also a Co-director for the Café Muse Literary Salon.
Founder, Editor Emeritus
Kim Roberts
founded Beltway Poetry Quarterly in January 2000 and served twenty years, through the end of December 2019. She is the author of A Literary Guide to Washington, DC: Walking in the Footsteps of American Writers from Francis Scott Key to Zora Neale Hurston (University of Virginia Press, 2018), and five books of poems, most recently The Scientific Method (WordTech Editions, 2017). She is also editor of the anthologies O Say Can You See: The Early Poets of Washington, DC (University of Virginia Press, forthcoming 2021), and  Full Moon on K Street: Poems About Washington, DC (Plan B Press, 2010) and co-publisher, with Dan Vera, of the web exhibit DC Writers' Homes. Roberts has been the recipient of grants from the DC Commission on the Arts, the Humanities Council of Washington, and the National Endowment for the Humanities. In addition, she has been awarded residency grants from eighteen artist colonies. Her website: www.kimroberts.org.
Guest Editors
One issue of Beltway Poetry every year is guest edited by a writer who has previously been featured in the journal. Our roster of guest editors is eminent!
Past guest editors have included: Elizabeth Acevedo of the DC Slam Team; Saida Agostini of FORCE: Upsetting Rape Culture; Francisco Aragón of Letras Latinas at the University of Notre Dame's Institute for Latino Studies; Holly Bass and Joel Dias-Porter of Cave Canem; Abigail Beckel of Rose Metal Press; Regie Cabico of the Capturing Fire International Queer Summit and Slam; Nancy Naomi Carlson, Katherine E. Young and Suzanne Zweizig of DC-ALT; Teri Ellen Cross Davis of the Folger Shakespeare Library; Brian Gilmore of the Progressive Media Project; Michael Gushue of Poetry Mutual; Merrill Leffler of Dryad Press; Katy Richey of the Sunday Kind of Love reading series; Myra Sklarew, professor emeritas at American University; stevenallenmay of Plan B Press; and Dan Vera of DC Writers' Homes.
A special tribute to guest editors was published on the occasion of the journal's twentieth anniversary in October 2019 (Issue 20:4), and the tenth anniversary in January 2010 (Issue 11:1).
Partnerships
We are proud to have developed partnerships with several other organizations with strong ties to the region. DC Film Alliance hosts our subscriber list serve, and the journal lives on its server. Split This Rock and The Word Works have served as fiscal sponsors. Funding for select issues was provided by the DC Commission on the Arts and Humanities and the Humanities Council of Washington, DC.
We have also co-sponsored initiatives and special issues with: the American Poetry Museum, The Bunny and the Crocodile Press, DC-ALT, Letras Latinas (a program of the Institute of Latino Studies at the University of Notre Dame, DC Office), Plan B Press, Poetry Mutual, Split This Rock, and the Washington Friends of Walt Whitman.
We are extremely grateful to all of our partners. For more information on how your organization can partner with Beltway Poetry Quarterly, please contact us at info@beltwaypoetry.com.
Interns and Volunteers
Our deep thanks also to all our past interns and volunteers: Samantha Liming, Hayden Arp, Joon Song, Jessica Roxburgh, Alyssa Schimmel, Pauline Tran, Georgia Chaconas, Olga Tsyganova, Helen Park, Jennifer Tamayo, Andy Cole, Lauren Harrison, Michael Degnan, Carol Heller Nation, Ann Kurzius, Emery Pajer, and David Bujard.
Acknowledgments
Support for Beltway Poetry Quarterly has come from the DC Commission on the Arts and Humanities and the Humanities Council of Washington, DC. Additional support has been generously provided by the American Poetry Museum, DC Shorts Film Festival, Letras Latinas, Poetry Mutual, Split This Rock, and The Word Works.
We are also indebted to the following individual donors: Andrea Carter Brown, Tom Drescher, Nereide Ellis, Jon Gann, Judy Thibalt Klevins, Richard McCann, Martin G. Murray, Carol Heller Nation, Gwen Rubinstein, Tonda Rush, Myra Sklarew, and Martha Tabor.
If you'd like to provide monetary support for the continued publication of Beltway Poetry, please contact us at info@beltwaypoetry.com. Donations made through our fiscal sponsor are tax deductible; please inquire.