Poetry in Translation Issue
Volume 16:3, Summer 2015
In Praise of Hate
My friend, a clever woman, tells me hate
is the most democratic emotion. Mulling
it over, I decide she's hit the nail on the head
and by that measure, I am a democrat par excellence.
Oh, without reservation, with no shred
of bias, I hate those who spill innocent blood,
no matter what race or religion, those who grind
the faces of the poor, suck their marrow, those
who amass fortunes, speculate in misery, masters
of corruption, rabbis of coercion, parasites
of sanctity, feeding on the dead, sowing strife
to promote themselves, starved for power, rolling
sanctimonious eyes, spreading cheap promises,
priests of deceit, swindlers, directors of obscenity,
scribes of rot, those who sell their own birthright
for a mess of lentils, or any other bean, offspring
of Satan concealing their horns and hooves, spinners
of false dreams, worshippers of abstraction decked out
in their finery of high art or tawdry clichés, see how
they parade, frothing at the mouth, stoking the hysteria
of the mob, and of course I hate you, apple of my eye,
you who swore to love me forever, yea verily I hate
the whole lot, no one shall escape unpunished.  Selah.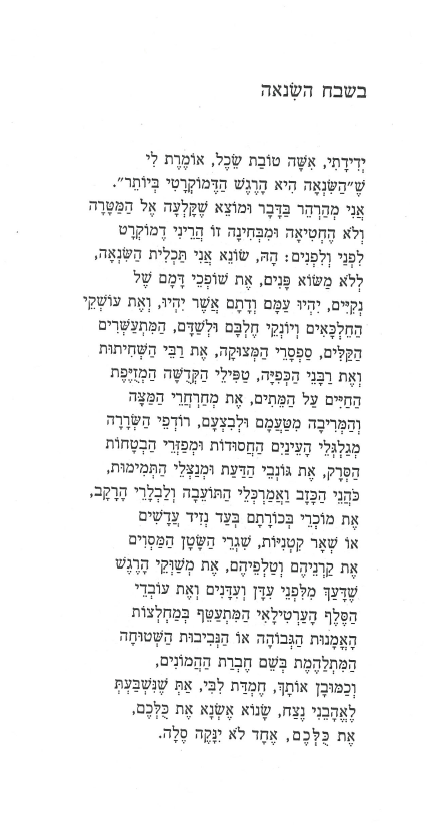 Houses
Like a tired migratory bird you drop

your head on my shoulder and I know
what you want from me: protection
from this bad world.
But I also know that every shelter I built
for you—straw, wood, brick—all
were washed away in the storm.
The only thing left for me to give
is my old, bruised body, swaying
in the slightest puff of wind, but it's all yours,
whether standing upright or collapsing—
come, hide in it.
Moshe Dor, born in 1932 in Tel Aviv, has authored 40 books of poetry, essays and children's verse. Recipient of both the Bialik Prize and Israel's Prime Minister's Award, Dor was Israel's Counselor for Cultural Affairs in London and Distinguished Writer in Residence at American University, Washington, DC. He served on the editorial board of Ma'ariv, a leading Israeli newspaper. Dor's poems have been translated into over 30 languages. The American poets he has translated include Naomi Shihab Nye and Charles Simic. Dor is the lyricist of "erev shel shoshanim (Evening of Roses)", performed worldwide as a wedding song.
Barbara Goldberg, raised in Forest Hills, New York, graduated Phi Beta Kappa in philosophy from Mount Holyoke College. She received an MEd from Columbia University and an MFA from American University, Washington, DC. She is the author of 6 prizewinning poetry books, including the Valentin Krustev Award in translation for Transformation: The Poetry of Translation and the Felix Pollak Poetry Prize through the University of Wisconsin Press, for The Royal Baker's Daughter. Goldberg's most recent book of translations is Scorched by the Sun: Poems by Moshe Dor, supported by the Institute for the Translation of Hebrew Literature. Goldberg's include two fellowships from the National Endowment for the Arts. Her own work appears in the Harvard Review, Poetry, The Paris Review, and elsewhere. Goldberg has taught poetry, translation and speechwriting and presented readings/panels at the American Literary Translators Assocaion (ALTA), Associated Writing Programs (AWP) the International Monetary Fund (IMF), the Folger Shakespeare Library and The Jimmy Carter Center for Inernational Peace. A former senior speechwriter for a large nonprofit organization and executive editor of Poet Lore magazine, she is currently Series Editor of the Word Works' International Editions. She lives in Chevy Chase, Maryland.