Volume 15:4, Fall 2014
A Splendid Wake Issue
Many years ago, when our current DC Poet Laureate Dolores Kendrick was teaching at Phillips Exeter Academy in New Hampshire, I was invited to come and work with her students in a poetry workshop along with Sam Allen. I had known that Sam first published his poems not in the United States but in Paris in a journal edited by Richard Wright called Presence Africaine in 1949. Wright had gone to France in 1946 and later, having decided he could no longer tolerate the racism he experienced even in New York, moved permanently in 1947 to Paris, never to return to the US. Wright, along with Aime Cesaire, Leopold Senghor, and Alioune Diop founded Presence Africaine.
A curious intersection in my own life occurred regarding my close friend of over fifty years, then known as Charlotte Sorkine, among a number of false names. After serving as a teenager in the French Resistance during WWII and saving hundreds of children by taking them over the border into Switzerland, and saving adult men by taking them across the Pyrenees Mountains into Spain where they were sheltered in brothels that served as safe houses, she attempted to reclaim her life. Her mother and brother had been killed. She had saved her father's life by getting him out of the country. She had managed to reclaim her house with the help of her fellow Resistance members. She began to use photography as a way to earn a little to survive and established a darkroom for developing photographs in her house. It turned out that Richard Wright at that time needed the use of a dark room and proceeded to visit her for that purpose. Charlotte enjoyed getting to know Richard Wright during this time. If I remember correctly, Sam Allen, during Wright's extensive travels, was involved with editing Presence Africaine.
Samuel Allen was born in Columbus, Ohio on December 9, 1917. He attended Fiske University where he studied with James Weldon Johnson, receiving his degree in 1938. He studied law at Harvard and received his degree in 1941. After military service, Sam did graduate work at the New School for Social Research, then attended the Sorbonne in Paris under the G.I. Bill. Wright introduced Sam Allen to the Presence Africaine circle. Sam's first published book of poems appeared in Germany—Elfenbeinzahne/Ivory Tusks—a bilingual edition with translations by Janheinz Jahn, in 1956 under the pseudonym Paul Vesey (used in his early work). Sam practiced law in New York City, teaching of law at Texas Southern University and serving in the federal government in Washington, DC during the Kennedy and Johnson administrations. In the summer of 1968, Allen left the law for literature, first at Tuskegee and later at Boston University where he taught African, Afro-American and Third-World literature.
Essential and important works include the translation of Sartre's "Orphee noir" essay, an article on "Tendencies in African Poetry," and the Pan-Africanism Reconsidered volume which he co-edited with an introduction in 1962. "Negritude and Its Relevance to the American Negro Writer," a paper he delivered in 1959 at the New York Black Writers' conference, is considered a central text on the subject.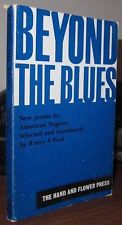 It's curious how our paths cross, sometimes unwittingly in terms of later import, the kind that changes your life. More than fifty years ago, I came across a book published in London in 1962, an anthology of poems by African Americans edited by a woman named Rosey E. Pool. She'd been in the Resistance in Holland during World War II and had sung Spirituals in the concentration camp to her fellow inmates, her sorrow songs of comfort: "I know moonlight, I know starlight,/ I lay this body down."
Sam Allen, known as Paul Vesey in that collection she edited called Beyond the Blues, along with some of the Howard Poets and many others, is well represented.
A Moment, Please
WHEN I GAZE AT THE SUN
I walked to the subway booth
for change for a dime.
AND KNOW THAT THIS GREAT EARTH
Two adolescent girls stood there
alive with eagerness to know
IS BUT A FRAGMENT FROM IT THROWN
all in their new found world
there was for them to know
IN HEAT AND FLAME A BILLION YEARS AGO,
they looked at me and brightly asked
'Are you Arabian?'
THAT THEN THIS WORLD WAS LIFELESS
I smiled and cautiously
—for one grows cautious—
shook my head.
AS, A BILLION HENCE
'Egyptian?'
IT SHALL AGAIN BE,
Again, I smiled and shook my head
and walked away.
WHAT MOMENT IS IT THAT I AM BETRAYED,
I've gone but seven paces now
OPPRESSED, CAST DOWN,
and from behind comes swift the sneer
OR WARM WITH LOVE OR TRIUMPH?
'Or Nigger?'
A moment, please
WHAT IS IT THAT TO FURY I AM ROUSED
for still it takes a moment
WHAT MEANING FOR ME
and now
IN THIS HOMELESS CLAN
I'll turn
THE DUPE OF SPACE
and smile
THE TOY OF TIME?
and nod my head.
American Gothic
To Satch
Sometimes I feel like I will never stop
Just go on forever
Til one fine mornin'
I'm gonna reach up and grab me a handfulla stars
Swing out my long lean leg
And whip three hot strikes burnin' down the heavens
And look over at God and say
How about that!
(Satchell Paige star pitcher)
from Paul Vesey's Ledger
The way back was through the Orient
an opening to the East
not Medina,
through Medina to Oshogbo
not Oshogbo, through Ogshogbo—
so I am,
for Bigger's way was not through his mama's blue-eyed Jesus
but the brutal and profane Southside
through his visionary viciousness
southside and west in Chi
the sprawling danger, the hard turf
the cicatriced flesh
of his lost love, his murdered hopes
grotesquely sprawled, stiff corpses
still waiting
in the wintry stations of the el.
I saw the slight, stooped figure of DuBois, peering
for a path beyond this miasmal fog,
still horrified by Bigger
not yet to realize
his "tenth" were hostage to the western image
whose path crept by the big house,
the master bedroom in the old plantation,
a rigorous seminary.
I, too, see the storm coming
did I not guide Sherman's troops through the north of Georgia
stand firm at Shiloh
with the Rock at Chickamauga?
I see black hands like violets like dark rhododendrons
huge tropical leaves trembling between the pole pulls of allegiance.
"A Moment, Please" and "American Gothic" are reprinted from Beyond the Blues, Selected and Introduced by Rosey E. Pool, The Hand and Flower Press, London, 1962.  "Paul Vesey's Ledger" reprinted from Paul Vesey's Ledger, Volume 27, Heritage Series, ed. Paul Breman, London, 1975.
Samuel Washington Allen (1917 - ), who also wrote under the pseudonym Paul Vesey, is the author of four books of poems: Elfenbeinzahne: Gedichte eines Afroamerikaners (bilingual edition in English and German, Heidleberg, Germany: Wolfang Rothe 1956), Ivory Tusks and Other Poems (New York: Poets Press, 1968), Paul Vesey's Ledger (Detroit: Broadside Press, 1975), and Every Round and Other Poems (Detroit: Lotus Press, 1987). He edited Poems from Africa (New York: Crowell, 1973), and translated Jean Paul Sartre's Jean-Paul Sartre's Orphee Noir and Leopold Senghor's Anthologie de la Nouvelle Poesie Negre from French into English. He lived in DC from 1961 to 1968, working as assistant general counsel of the U.S. Information Agency and chief counsel of the Community Relations Service.
Myra Sklarew was educated at Tufts University and the Writing Seminars at Johns Hopkins University. She studied at Cold Spring Harbor Biological Laboratory with Salvador Luria and Max Delbruck and conducted research in frontal lobe function of Rhesus monkeys at Yale University School of Medicine. She is the author of 17 collections of poetry, fiction and essays including Invitation to a Country Called Aging (co-written with Patricia Garfinkel, Politics & Prose Books, 2018), Harmless (Mayapple Press, 2010), The Witness Trees (Cornwall Books U.S./London/Dora Teitelboim Center for Yiddish Culture, 2000, reprinted 2007), Lithuania: New & Selected Poems (Azul Editions, 1995), and the forthcoming A Survivor Named Trauma: Holocaust Memory in Lithuania (SUNY University Press). Awards include the PEN Syndicated Fiction Award and the National Jewish Book Council Award in Poetry for From the Backyard of the Diaspora (Dryad Press, 1981). She is the former president of the Yaddo Artist Community and professor emerita in the Department of Literature, American University. To read more by this author: Five poems, Winter 2004, Whitman Issue, Myra Sklarew on May Miller: Memorial Issue, and Myra Sklarew on Leon-Gontran Damas: Forebears Issue