A Splendid Wake
An online resource honoring the history of DC poets, poetry movements, publications, and more from 1900 to the present.  A Splendid Wake hosts annual events each Spring and publishes a blog as well as the web resource.  Sponsored by the Gelman Library Special Collections at George Washington University. Also note: the Fall 2014 literary history issue was sponsored by A Splendid Wake.
American Life in Poetry
American Life in Poetry is a free, weekly column written specifically for reprint in newspapers and online publications, focusing on a single, accessible poem, presented by Ted Kooser, former US Poet Laureate.
CommonLit
CommonLit is a national nonprofit educational organization based in DC dedicated to improving children's literacy. Online library of hundreds of texts provide reading passages and tracking tools for grades 5 through 12. Provides paired passages, related media, comprehension questions, and formative assessments that are rigorous and standards-aligned. Free for teachers.
Cultural DC
The Cultural Development Corporation is an arts incubator, offering space and professional development to non-profit groups, and administering live-work space for professional artists of all disciplines.
Cultural Tourism DC
Cultural Tourism is a nonprofit coalition promoting the arts, culture, and history of DC.  Some of their notable programs include: Neighborhood Heritage Trails; the annual WalkingTown tours by foot and bicycle; and an annual embassy open house day called Passport DC.  Publications include the African American Heritage Trail.
CultureCapital
CultureCapital is a membership organization for arts groups and individual artists.  They offer marketing, professional development, and group health care for members.  For the general public, they run TicketPlace, a source for half-price tickets to performing arts, and a free online Job Bank where you can search for paid jobs in the arts and arts administration.
DC Advocates for the Arts
DC Advocates for the Arts is a membership organization working to increase support for the arts in the District. The group sponsors an annual Arts Advocacy Day.
DC By the Book
DC By the Book is a website with a custom map that allows users to explore the landscape of Washington, DC as it has been represented in fiction.  Users can read excerpts, see photos, and find books in library branches; they can also add new books.  Includes a database of hundreds of works of fiction set in DC, ranging from classics to contemporary novels and short stories.  Sponsored by the DC Public Libraries, with support from the Institute of Museum and Library Services, Beekeeper Group, The Historical Society of Washington, Cultural Tourism DC, and the Humanities Council of Washington.
DC Poetry
The DC Poetry website publishes information on three area reading series: In Your Ear, Ruthless Grip, and the Bridge Street Books series.  They also publish an online anthology and an audio archive of poets who have read in these series.  Of special interest are the essays they have compiled in the History Project, which document independent experimental small presses, reading series, and communities who were drawn to DC beginning in the 1970s.
DC Writers' Homes
DC Writers' Homes maps and photo-documents the homes once belonging to poets, fiction writers, playwrights, and memoirists in the greater DC area.  Curated by Kim Roberts and Dan Vera.
Dickinson Electronic Archive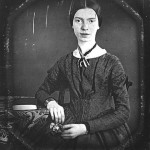 The Dickinson Electronic Archive includes writings by the Dickinson family, responses to Emily Dickinson's writing, critical resources, and teaching with the archives.  Martha Nell Smith, Exec. Ed.
Favorite Poem Project
The Favorite Poem Project is an online video archive of "Americans Saying Poems They Love."  The project was developed by Robert Pinsky during his three terms in DC serving as the 39th US Poet Laureate.
Lesbian Poetry Archive
The Lesbian Poetry Archive, edited by Julie R. Enszer, digitally preserves lesbian poetry and its ephemera for scholars, poets, and general readers.
Library of Congress
The LoC is an amazing resource. Information on the extensive collections (books, manuscripts, maps, photographs, prints, recordings, etc.), as well as the numerous public programs including readings and films and author talks. Special features of the site include "This Day in History"; web exhibits on such topics as Thomas Jefferson, Russia, and Bob Hope; the American Memory section with connections to original reference materials; a children's section, "The Poet and the Poem" webcasts, the Archive of Recorded Poetry and "Poetry 180," an initiative begun by former poet laureate Billy Collins to provide daily poems designed to be read by high school students. LoC Publications prints books, catalogues, and pamphlets about the library and its holdings.  Also of special interest is the National Book Festival, the Center for the Book, with affiliated centers across the nation, the US Copyright Office, and the Office of the US Poet Laureate.
Poetry Coalition
A national coalition of literary organizations, the Poetry Coalition promotes the value that poets bring to American culture and the important contribution poetry makes in the lives of people of all ages and backgrounds. Among the 20 organizations are three with strong ties to DC: The Alliance for Young Artists & Writers/National Student Poets Program, Letras Latinas, and Split This Rock.
Poetry Moment
A public art project, the Poetry Moment Project displays rotating short poems by regional poets in a display box outside the New Deal Cafe in Greenbelt, MD.  Poems also reprinted on the web.
Poetry Mutual
Poetry Mutual of America is a poetry incubator located in DC.  They sponsor seasonal events, including The Millay Project, The Coquetelon: A Toast to Pablo Neruda, and the Halloween Reading of Poe's "The Raven."  They are home to three poetry presses: Vrzhu Books, Beothuk Books, and Souvenir Spoon Books.  Run by Dan Vera and Michael Gushue.
University of Maryland journals
Feminist Studies publishes three issues per year, with poetry in every issue. Based in College Park, MD and sponsored by the University of Maryland Department of Women's Studies.  Also housed at the university is a refereed, scholarly website, Romantic Circles, devoted to the study of Romantic period literature and culture. Includes e-editions of texts, critical essays, bibliographies, guides for teachers, scholarly resources, and more. Edited by Neil Fraistat and Steven E. Jones. Of special interest is the feature "Poets on Poets" in which contemporary poets read their favorite works by Byron, Shelley, Wordsworth, Coleridge, and Keats.
Viva la vida literaria
C.M. Mayo, author and translator, offers this listing on her website of area resources for Spanish-language writers and translators.
Washington Area Lawyers for the Arts
WALA is a non-profit offering education, advocacy, and volunteer legal services to individual artists and arts organizations through workshops and seminars, legal clinics, and pro bono referral services.