Volume 15:4, Fall 2014
A Splendid Wake Issue
A wide range of authors are remembered in the greater Washington, DC region with places and prizes named in their honor. Not all lived in the city, but all have become an integral part of our urban fabric.
Text by Kim Roberts.  Photos by Dan Vera.
Alain Locke Hall
Howard University, 2400 Sixth St. NW, Pleasant Plains neighborhood, DC
Locke Hall houses the administrative offices of the College of Arts and Sciences, as well as classrooms for the departments of English, Classics, and Modern Languages and Literature on the Howard University campus.
A Harvard graduate and the first African American recipient of a Rhodes Scholarship (1907), Alain Locke was the Chair of the Philosophy Department at Howard University, and also the faculty advisor for the literary society and magazine, The Stylus. The famous collection of African Art at the Howard Gallery of Art in Childers Hall was started by Locke, who was one of the first serious collectors of African art in the United States. In addition, he helped form the campus drama club, The Howard Players. He would teach at the university for over four decades, from 1911 to 1953. Locke co-founded the Associates in Negro Folk Education, and was the first African American to serve as president of the American Association for Adult Education.
He is perhaps best remembered as the editor of the landmark 1925 publication of The New Negro, an anthology of poems, fiction, drama and music that defined what would later come to be known as the Harlem Renaissance.   He wrote the books Race Contacts and Interracial Relations (1916), The Negro in America (1933), World View on Race and Democracy (1943), and Diversity Within National Unity (1945). He edited Plays of Negro Life (1927) and When Peoples Meet: A Study of Race and Culture Contacts (1942).
Aleksandr Pushkin Monument
George Washington University, corner of 22nd and H Street NW, Foggy Bottom neighborhood, DC
A bronze statue by Alexander Bourganov, the Pushkin Monument was erected in 2000 as one half of a cultural exchange between the cities of Moscow and Washington. (Moscow got a statue of Walt Whitman.) The Pushkin Monument is thought to be the first commemorating a Russian literary figure in the US. The standing figure is placed in front of a column topped by a winged Pegasus, representing poetry and creative inspiration.
Aleksandr Pushkin published short fiction, novels, and drama, but is most celebrated as a poet. He is the author of Eugene Onegin (1823-31), Boris Godunov (1825), Mozart and Salieri (1830), and The Bronze Horseman (1833) among other works, and is widely considered the founder of modern Russian literature.
Alexander Crummell Elementary School
1900 Gallaudet Street NE, Ivy City neighborhood, DC
The Crummell School was built in 1910 as part of the DC Public Schools. Closed in 1977, it subsequently served as a community center, daycare center, auto auction yard, and school bus yard. The school, now empty and crumbling, was listed on the National Register of Historic Places in 2003.
Alexander Crummell was a pioneering African American pastor, professor, and African nationalist. Educated at Queens College in Cambridge, England, he worked as a pastor in Liberia before returning to the US, where he was founder and rector of St. Luke's Episcopal Church in DC from 1875 to 1894. Crummell was on the faculty of Howard University for two years, and founded the American Negro Academy, a collective of top African American intellectuals. Many of his sermons and essays were published during his lifetime.
Benjamin B. French Masonic Lodge No. 15
1212 Wisconsin Ave. NW, Georgetown neighborhood, DC
In operation since 1853, this lodge is believed to be the only one in the country named after a sitting Masonic Grand Master. B.B. French served as Grand Master of the District of Columbia from 1846 to 1853.
A lawyer, journalist, and poet, he moved from New Hampshire to DC in 1833 and served as the Clerk of the US House of Representatives. He was also president of Samuel F.B. Morse's company, the Magnetic Telegraph Company, and DC Commissioner of Public Buildings under Presidents Pierce, Lincoln and Johnson.
French is the author of Fitz Clarence: A Poem (1844), Changes of Earth: A Poem (1845), and A Letter and Short Poem on the Death of Abraham Lincoln (1870). His diaries were later collected and published as Witness to the Young Republic: A Yankee's Journal, 1828-1870. He is best known for his associations with President Abraham Lincoln: he was present at the Gettysburg Address and in the room of the Peterson House as Lincoln lay dying, and was placed in charge of his funeral arrangements.
French is buried in Congressional Cemetery.
Carter G. Woodson National Historic Site
1538 9th St. NW, Shaw neighborhood, DC
The National Park Service purchased this site in 2005, the former home and office of Dr. Carter G. Woodson, with the intention to open it as a museum. So far, funds have gone into stabilitzing the crumbling back of the property, but the museum, alas, remains on hold.
Woodson, known as the "Father of Black History," earned a PhD from Harvard University in 1912, making him the second African American (after W.E.B. DuBois), and the first of slave ancestry, to earn a doctorate from that institution. In 1915, Woodson founded the Association for the Study of Negro Life and History. Because he could not support himself initially through this groundbreaking work, in 1918 he became Principal of Armstrong Manual Training School (through 1919). He later taught at Howard University and other schools.
In 1926, Woodson inaugurated Negro History Week (expanded in 1976 to Black History Month), to celebrate the achievements of people of African ancestry. He wrote several books on history for school children, and single-handedly developed the field of ethnic cultural studies. He has left an indelible mark on education in the US, and on how we interpret and analyze American history.
His books include: The Education of the Negro Prior to 1861 (1915), The History of the Negro Church (1921), Negro Orators and Their Orations (1925), African Myths, Together with Proverbs (1928), The Mis-Education of the Negro (1933), and African Heroes and Heroines (1939). He also edited the Negro History Bulletin and the Journal of Negro History, and founded Associated Publishers in 1920, the oldest African American publishing company.
Clara Barton Parkway
Part of the George Washington Memorial Parkway System, National Park Service
The Clara Barton Parkway parallels the Potomac River in southwestern Montgomery County, Maryland. Running between Carderock and Glen Echo, this roadway was named in 1989 for the woman best remembered as the organizer of the American Red Cross, and the person who modernized the profession of nursing.
Clara Barton also wrote lectures and two histories of the Red Cross, The Red Cross in Peace and War (1898), and Story of the Red Cross: Glimpses of Field Work (1904), as well as a memoir, The Story of My Childhood (1907).
She ran the Office of Correspondence with Friends of the Missing Men of the United States Army in DC from 1865 to 1869 at 437 7th Street NW, in a building that is still standing. Her home at 5801 Oxford Rd. in Glen Echo is preserved as a National Historic Site.
Eatonville Restaurant
2141 14th St. NW, historic U Street neighborhood, DC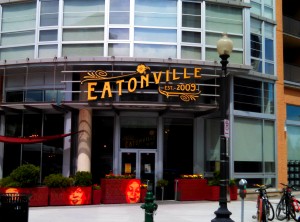 Named for the Florida hometown of Zora Neale Hurston, this restaurant, opened in 2009, is inspired by the author.
A novelist, short story writer, anthropologist, and folklorist, Hurston wrote four novels, Jonah's Gourd Vine (1934), Their Eyes Were Watching God (1937), Moses, Man of the Mountain (1939), and Seraph on the Suwanee (1948). She also published nonfiction, including two books of folklore, Mules and Men (1935) and Tell My Horse (1938), and the memoir Dust Tracks on a Road (1942).
Between 1918 and 1924, Hurston lived in DC, where she began her undergraduate degree at Howard University. While here, she was active in the Howard Players and published her first short story in the campus literary journal The Stylus. She joined a sorority, Zeta Phi Beta, attended literary salons in the home of Georgia Douglas Johnson (called the Saturday Nighters), and worked part-time as a manicurist and waitress. She completed her college degree at Barnard College in New York in 1927.
Hurston later worked as an anthropologist, conducting field studies under a Guggeheim Fellowship, and as a journalist, teacher, and freelance writer. Howard University honored her with a Distinguished Alumni Award in 1943.
Francis Scott Key Bridge
US Route 29, spanning the Potomac River
This graceful, six-lane, reinforced concrete arch bridge carries traffic over the Potomac River from the Georgetown neighborhood in DC to the Rosslyn neighborhood in Arlington, VA. It is the DC's oldest bridge, built between 1917 and 1923.
The DC side is just east of Francis Scott Key's former home (razed in 1947); near that site, there is now a community park named for Key, administered by the National Park Service, containing a bust of the author.
In addition, Key Elementary School, part of the DC Public School system, and Key Halls at the George Washington University and at the University of Maryland at College Park are named for him.
A lawyer, Key is best known as the poet who wrote the lyrics to the US National Anthem, "The Star Spangled Banner." The poem was written after witnessing the bombing of Fort McHenry during the Battle of Baltimore in the War of 1812, and was set to the tune of a popular British drinking song, "To Anacreon in Heaven." In addition to occasional poems (collected into a book that was published 14 years after his death), Key published a nonfiction book, The Power of Literature, and Its Connection with Religion (1834).
Frederick Douglass Statue
National Statuary Hall, US Capitol, 1st St. SE, Capital Hill neighborhood, DC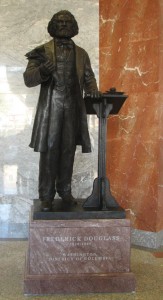 A statue of Frederick Douglass at a lectern by Steven Weitzman is the newest addition to the National Statuary Hall collection in the US Capitol. The collection of prominent Americans, two from each state, had long been closed to DC, but intense lobbying resulted in this new addition, which brings African American representation in the collection to three.
A statesman, social reformer, writer, and powerful orator, Douglass was born a slave and became a leader in the abolitionist movement and the women's rights movement. He is the author of three memoirs: A Narrative of the Life of Frederick Douglass, an American Slave (1845), My Bondage and My Freedom (1855), and the Life and Times of Frederick Douglass (1881, revised 1892).
Douglass moved to DC in 1872, and worked as an editor for the abolitionist newspaper New National Era, served as a US Marshall and the DC Recorder of Deeds. From 1889 to 1891, he was Consul-General to the Republic of Haiti. His house, at 1411 W St. SE, is a museum administered by the National Park Service. An earlier home, at 320 A St. NE, still stands, and is now owned by a nonprofit group. In addition to these sites, he is remembered locally by a bridge across the Anacostia River named in his honor.
Henry Wadsworth Longfellow Statue
Connecticut Avenue at M Street and Rhode Island Avenue NW, Dupont South neighborhood, DC
A massive bronze Henry Wadsworth Longfellow in flowing robes sits on a plinth south of Dupont Circle. Installed in 1909, it was created by Thomas Ball and William Couper, a gift from the Longfellow National Memorial Association, and the first statue in DC honoring an American literary figure.
Longfellow taught at Bowdoin College in Maine and Harvard in Massachusetts; he published poetry, novels, a play, a travelogue, and translations of works from Spanish and Italian. He is best remembered for Evangeline: A Tale of Acadie (1847), The Song of Hiawatha (1855), and "Paul Revere's Ride" (1860). During his lifetime, he was the country's best known and most popular poet. He never lived in DC.
Hilary Tham Capital Collection
The Word Works, Inc., PO Box 42164, DC
A former editor-in-chief of The Word Works, and a powerful advocate for local poets, Hilary Tham has been appropriately honored by the press with a publishing line in her name, a line that focuses on publishing books by poets who are notable for their contributions to nonprofit groups or groups that serve the literary community.
Tham was born in Klang, Malaysia, educated at a convent school by Irish nuns, married a Peace Corps volunteer, converted to Judaism, and immigrated to the US in 1971. She was awarded ten Artist-in-Education grants from the Virginia Commission for the Arts, and taught creative writing in grade schools and for The Writer's Center.
Tham was poetry editor for the Potomac Review, and co-edited the anthology Winners: A Retrospective of the Washington Prize (1999). She is the author of nine books of poems, including Men & Other Strange Myths (1994), Counting (2000), The Tao of Mrs. Wei (2003), and a memoir, Lane With No Name: Memoirs and Poems of a Malaysian-Chinese Girlhood (1997). She died of cancer at age 58.
Joaquin Miller Cabin
Picnic Area #6, Rock Creek Park, Beach Drive NW, DC
Joaquin Miller, the "Poet of the Sierras," built his modest log cabin atop Meridian Hill in the late 1860s, now the site of Malcolm X Park. The National Park Service later moved it to a location in Rock Creek Park, where it once served as a meeting place for the Sierra Club, an artist's studio, a place to purchase soft drinks and candy, and the site of a reading series sponsored by The Word Works.  The cabin is now deteriorating, its walls bowing inward and held up with cross beams that make the inside no longer usable.
Joaquin Miller was the pen name of Cincinnatus Heine Miller. He was a colorful character who published essays and over twenty books of poems, including Specimens (1869), Songs of the Sierras (1871), Songs of the Soul (1896), and 49: The Gold Seekers of the Sierras (1910). He worked at various times as a mining-camp cook, lawyer, journalist, Pony Express rider, and was once jailed as a horse thief. Miller lived in DC from 1883 to 1886.
Jacklyn Potter Young Poets Award
The Word Works, Inc., PO Box 42164, DC
The Potter Award is sponsored annually for outstanding high school students by The Word Works. Winners read in the annual summer series, the Joaquin Miller Reading Series.
Jacklyn Potter was Director of the reading series from 1894 until her death in 2006. She was famous for opening her home for receptions following each reading, some of which lasted late into the night as poets gathered in her kitchen or on the old couch on her back porch.
Potter taught English as a second language and co-edited the anthology Cabin Fever: Poets at Joaquin Miller's Cabin 1984-2001 (2003). She published individual poems in numerous journals, but did not collect them into a book.
Jean Jules Jusserand Bench
Rock Creek Park, Beach Drive, south of Pierce Mill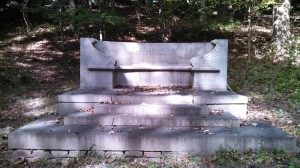 This granite bench was dedicated in Rock Creek Park in 1936, the first memorial erected on Federal property to a foreign diplomat. It was designed by Joseph Freedlander, and is engraved with the words "Jusserand: Personal Tribute of Esteem and Affection."
A French diplomat who served in England, Tunisia, and Denmark, Jean Jules Jusserand served longest as US Minister to France, living in DC from 1902 to 1925. In that role, he advised four US Presidents, becoming particularly close with Theodore Roosevelt, and worked on the adoption of the Treaty of Versailles that ended WWI.
Jusserand was also a scholar and author who specialized in English literature, writing nonfiction books on Shakespeare, English travelers of the Middle Ages, and a Literary History of the English People. His With Americans of Past and Present Days (1916) earned the first Pulitzer Prize for History, and his memoir, What Me Befell, was published in 1933.
John Burroughs Education Campus, DC Public Schools
1820 Monroe St. NE, Brookland neighborhood, DC
Serving students in preschool through 8th grade, the Burroughs Education Campus, home of the Raging Rams, has a focus on science, technology, engineering and mathematics.
The campus is named for John Burroughs, a naturalist and essayist who came to DC in 1864 to work as a clerk in the US Treasury, and remained into the 1880s. His nature essays and philosophical commentary were collected in 32 publications, including Notes on Walt Whitman as Poet and Person (1867), Birds and Poets (1877), Camping and Tramping with Roosevelt (1906), and Under the Maples (1921). His book Wake Robin (1871) was inspired in part by Rock Creek Park.
John Philip Sousa Bench
Congressional Cemetery, 1801 E Street SE, Barney Circle neighborhood, DC
Facing Sousa's gravesite in Congressional Cemetery, this marble bench is decorated with a classical lyre, and surrounded by crepe myrtle trees, making this one of the loveliest places to rest in the cemetery grounds.
Famous as "The March King," John Philip Sousa was born and raised in DC. He is best known as the composer of popular military and patriotic marches including "Semper Fidelis" and "The Washington Post March." He was also director of the US Marine Band and the inventor of the sousaphone.
Sousa was the author of three novels and an autobiography.  His novels are The Fifth String (1902) a best seller, Pipetown Sandy (1905), which is set in the DC neighborhood where he grew up, and The Transit of Venus (1920). His autobiography, Marching Along (1928), became the basis for the 1952 Hollywood movie, Stars and Stripes Forever.  He is also remembered with a bridge in his name, which carries Pennsylvania Avenue SE across the Anacostia River.
Josiah Henson Park
Isaac Riley Farm, 11420 Old Georgetown Rd., N. Bethesda, MD
Administered since 2006 by the Montgomery County Parks Department, the Isaac Riley Farm is listed on the National Register of Historic Places and is a participant in the National Park Service's National Underground Railroad Network to Freedom program. Although the house is not open to the public (and there is not even parking on site), the park is open, and staff archeologists continue to conduct site excavations. Slave quarters have not survived, but the owner's house remains, with a frame portion dating to 1800 and a log wing built as a kitchen and sleeping loft that dates to 1850. The park hosts two annual events: tours for Black History Month, and a spoken word celebration called "Lyrical Rhythms: The Sounds of Freedom."
Josiah Henson was born into slavery on a farm near Port Tobacco in Charles County, MD. He moved to this address when he was made supervisor of the Isaac Riley Farm. He subsequently moved to Lewisport, KY in 1825 to take a position as a slave overseer, and escaped from slavery in Kentucky in 1830. In Canada, he settled into an all-African American town in Ontario, the Dawn Settlement, where he farmed and was a Methodist minister. He was the first person of African descent to be featured on a Canadian stamp.
Henson wrote an autobiography, The Life of Josiah Henson, Formerly a Slave, Now an Inhabitant of Canada, As Narrated by Himself (1849), which inspired the character of George Harris in Harriet Beecher Stowe's influential novel, Uncle Tom's Cabin (1852). Henson wrote two more memoirs, Truth Stranger Than Fiction: Father Henson's Story of His Own Life (1858), and Uncle Tom's Story of His Life: An Autobiography of Josiah Henson (1876).
Juan Ramón Jiménez Hall
Building JMZ 034, University of Maryland, College Park, MD
Constructed in 1962, Jimenez Hall houses the School of Language, Literature, and Culture. It is named for a former professor, who taught at the university from 1943 to 1951.
Juan Ramón Jiménez was a poet, editor and critic, the winner of the Nobel Prize in Literature in 1956. He left his native Spain at the outbreak of the Spanish Civil War, living in exile in Cuba, the United States, and Puerto Rico. Among his better known works are Sonetos espirituales 1914–1916 ("Spiritual Sonnets," 1916), Piedra y cielo ("Stones and Sky," 1919), Poesía, en verso, 1917–1923 (1923), Poesía en prosa y verso ("Poetry in Prose and Verse," 1932), Voces de mi copla ("Voices of My Song," 1945), and Animal de fondo ("Animal at Bottom," 1947).
Julia Child's Kitchen
National Museum of American History, 14th St. and Constitution Ave. NW, basement level, Smithsonian Institution
Julia Child donated her personal kitchen and all its contents to the Smithsonian in 2001, and the museum has lovingly recreated it, including her wall of hanging pots, her magnetic strips holding knives, and all her appliances and gadgets. The kitchen was originally in Child's home in Cambridge, MA, and it was the site where Child taped her last three television series in the 1990s: "In Julia's Kitchen with Master Chefs," "Baking with Julia," and "Julia and Jacques: Cooking at Home."
Best known as the person who introduced French cuisine to Americans, Child was the author of a memoir, My Life in France (2006) and 16 cookbooks, including The Art of French Cooking (1961), The Way to Cook (1989), and Cooking with Master Chefs (1995).
Child served in the Office of Strategic Services during World War II in DC, Sri Lanka, and China. She lived in DC in the earliest days of her marriage, and taught herself to cook. She accompanied her husband to France, when he was posted there by the US Department of State. Child's popular TV cooking programs ran from 1963 through 2000. She was the recipient of numerous honors, including the French Legion of Honor and a Presidential Medal of Freedom.
Julia Ward Howe Plaque
Willard Intercontinental Hotel, 1401 Pennsylvania Ave. NW, DC
On the front of the Willard Hotel, near the southwest corner of the building, a plaque commemorates Julia Ward Howe, who was visiting DC from Boston in 1861 at the start of the Civil War. Hearing Union soldiers sing "John Brown's Body" outside her hotel window, she thought the beautiful melody by William Steffe deserved better lyrics, so she wrote them herself, later publishing them in the Atlantic Monthly, where they were widely admired. "The Battle Hymn of the Republic" has been one of the country's most popular patriotic songs ever since.
Howe, an abolitionist and social activist, is the author of five books of poems: Passion-Flowers (1854), Words for the Hour (1857), From Sunset Ridge (1898), Later Lyrics (1866) and the posthumous At Sunset (1910). She also published essays, a travel book, a memoir, and a biography of Margaret Fuller. Howe edited the literary magazine Northern Lights and the weekly Woman's Journal, and co-founded the New England Woman Suffrage Association, the Association of American Women, and the General Federation of Women's Clubs. She was the first woman elected to the American Academy of Arts and Letters.
A quote by Howe is also inscribed in marble at nearby Freedom Plaza.
Kalorama Citizens Association
1365 Wisconsin Ave. NW #200, DC
The Kalorama Triangle Historic District is the area bounded by Connecticut Avenue, Calvert Street and Columbia Road NW. Listed on the DC Inventory of Historic Sites in 1986, and the Register of Historic Places in 1987, the neighborhood is named for the estate of Joel Barlow, which no longer stands. The adjoining neighborhood, the Sheridan-Kalorama Historic District, also makes use of the name.
Barlow, a diplomat and poet, bought property along what is now S Street in 1807, giving his land the Greek name "Kalorama" for its "beautiful view." He lived there until 1811. Barlow served as American Consul to Algiers, where he negotiated the Tripoli Treaty (1796), and as American Plenipotentiary to France, where he negotiated a commercial treaty with Napoleon.
He published several books, including Hasty Pudding (1793), the Conspiracy of Kings (1792), and the patriotic epic poem The Columbiad (1807).
Katherine Anne Porter Room
Hornbake Library, 6131 Library Lane, 1st floor, University of Maryland, College Park, MD
Katherine Anne Porter donated her books and papers, as well as some personal belongings and furniture, to the library after the university awarded the author an honorary degree in 1966. The refectory table dates from the 15th century, and came from her home library. The draftsman's desk, which Porter used for 30 years, comes from her study. Glass-fronted bookshelves house approximately 3,700 titles she collected. The Porter Room is open to the public on Tuesday afternoons or by appointment.
Porter won the Pulitzer Prize in Literature in 1966; she is the author of one novel, Ship of Fools (1962), three novellas, including Pale Horse, Pale Rider (1939), and three collections of short fiction, including Flowering Judas (1930) and The Collected Stories (1965). Porter lived in DC briefly in 1945, then again in 1959 until her death in 1980.
Kelly Miller Middle School, DC Public Schools
301 49th St. NE, Lincoln Heights neighborhood, DC
Kelly Miller Middle School has a focus on academics, art, music, and technology and a mission to develop strong leadership and character skills among its students. The DC public school serves children in grades 6 through 8 from the Deanwood, Burrville, Grant Park, Lincoln Heights, and Fairmont Heights neighborhoods. The school is named for the eminent professor and administrator who worked at Howard University for over forty years.
Kelly Miller served as a math professor (1890), a sociology professor (1895-1934), and dean of the College of Arts and Sciences (1907-1919). Miller wrote a syndicated column that was published in over 100 African American newspapers. His most prominent book, Race Adjustment, published in 1908, was a crucial early text challenging racist notions of Black inferiority.
Khalil Gibran Memorial Garden
Normanstone Park, 3100 Massachusetts Ave. NW, Woodland-Normanstone Terrace neighborhood, DC
The memorial garden was a gift of the Kahlil Gibran Centennial Foundation in 1991, and includes sculpture by Gordon S. Kray, a fountain, and inscriptions, set in a circular plaza. Located across from the British Embassy on Embassy Row, the memorial is a tribute to the Lebanese-born poet and artist.
Kahlil Gibran immigrated to Boston with his family as a child, and wrote in both Arabic and English. He is best known for The Prophet (1923), a collection of inspirational fiction that was popular in the 1930s and again with the 1960s counterculture. Other books include The Madman (1918), Sand and Foam (1926), and The Earth Gods (1931). He never lived in DC.
Langston Hughes Way
V Street NW between 13th and 14th Streets, historic U Street neighborhood, DC
This block was given its honorary designation in 2009. Noting the neighborhood's importance to the start of the Harlem Renaissance, Mayor Adrian M. Fenty stated at the dedication, "It is fitting that we commit a portion of our city to the legacy of Langston Hughes here in the Historic U Street district."
Hughes began his career during the Harlem Renaissance period, living in DC for one year and four months, then moving to Pennsylvania and New York. While living in DC, he published his first book of poems, The Weary Blues (1926), and wrote most of the poems that would become his second book, Fine Clothes to the Jew (1927).
In all, he would publish 15 books of poems during his lifetime, including The Dream Keeper (1932), Let America Be America Again (1938), Shakespeare in Harlem (1942), and Montage of a Dream Deferred (1951). He also published novels, short story collections, nonfiction, plays, works for children, and two memoirs, The Big Sea (1940), and I Wonder as I Wander (1956). He began writing his popular Simple stories, short fiction about a character named Jesse B. Semple, in 1943. His letters and collected works were published posthumously.
Hughes worked at a number of jobs while in DC, all of them briefly, including working as a busboy at the Wardman Park Hotel and as a clerk at the Association for the Study of Negro Life and History under Dr. Carter G. Woodson. Hughes is also remembered locally with a restaurant, Busboys and Poets, named for his time working at the Wardman Park Hotel. The Busboys and Poets located at 14th and V Streets NW has a back room performance space called the Langston Room. The 12th Street Y, where he briefly rented rooms, now known as the Thurgood Marshall Center for Service and Heritage, has displays recreating the 1920s, including a tiny, single-occupancy room such as the one Hughes would have rented.
Larry Neal Writing Awards
DC Commission on the Arts and Humanities, 200 I Street SE, DC
The awards, founded in 1983, offer prizes in poetry, fiction, drama, and essays for adults, teens, and youth residing in DC. They were named to honor a former director of the Commission.
Larry Neal, a leader in the Black Arts Movement, taught at City College of New York, Wesleyan University, and Yale University. He co-founded the Black Arts Repertory Theatre/School with Amiri Baraka. He is the author of two books of poems, Black Boogaloo (1969) and Hoodoo Hollerin' Bebop Ghosts (1974), as well as several plays, including The Glorious Monster in the Bell of the Horn (1979) and In an Upstate Motel (1980). Neal was co-editor, with Baraka, of the journal Liberator and the landmark anthology Black Fire: An Anthology of Afro-American Writing (1968). A collection of his essays and other work, Visions of a Liberated Future, was published posthumously in 1989.
Neal lived in DC from 1976 to 1979. He died of a heart attack at age 43 in 1981.
L. Ron Hubbard Reading Room
Founding Church of Scientology, 1424 16th St. NW, Dupont Circle neighborhood, DC
Housed in the historic Fraser mansion, the Founding Church of Scientology includes a visitor's center, with multi-media displays on Dianetics, Scientology, and the life of the Hubbard, who lived in this house from 1955 to 1959 (when it was a boarding house with a restaurant called the Golden Parrot on the first floor).
The controversial founder of the Church of Scientology, L. Ron Hubbard was a writer of science fiction and fantasy books. He attended George Washington University for two years in the 1930s, dropping out before earning a degree. It was at this time that he began publishing in pulp magazines, such as Thrilling Adventure, often under pen names.
In the mid-1930s, he worked on scripts for Hollywood movies, including The Secret of Treasure Island (1938). He later joined the Marines and was a Navy officer in WWII. After developing Diantenics, "the modern science of mental health," he founded the Church of Scientology in 1952. Hubbard is the Guinness World Record holder for the most published author, with 1,084 works; he also holds records for most translated book, and most audiobooks. His books include: Under the Black Ensign (1935), Slaves of Sleep (1939), The Indigestible Triton (1940), Death's Deputy (1948), The Kingslayer (1949), Typewriter in the Sky (1951), Return to Tomorrow (1954), The Ultimate Adventure (1970), and The Mission Earth Series (ten books, written 1985 – 1987).
Mary Roberts Rinehart Award
Fall for the Book Literary Festival, George Mason University, 4400 University Drive, MS 3E4, Fairfax, VA
The Rinehart Award honors a woman author of nonfiction, and is given annually at the Fall for the Book Literary Festival. George Mason University also administers another Rinehart Prize, a monetary award for student writers of particular promise.
A prolific and popular detective novelist, Mary Roberts Rinehart lived in DC from the early 1920s through 1935. She trained as a nurse, but married and raised her children instead, and found her true vocation after the stock market crash of 1903, when she began to write to supplement her husband's income. She contributed stories regularly to the Saturday Evening Post, and was the first female war correspondent, covering the Belgian front during World War I.
After her husband's death, she moved to New York, where she helped her sons found the publishing house Farrar & Rinehart. Rinehart published over 50 books: novels, short fiction, and travelogues. She also published plays, poetry, and articles. Her best-known novels are The Circular Staircase (1908), The Bat (1920), and The Door (1930); she also wrote a popular Broadway comedy, Seven Days (1909).
Maya Angelou Public Charter Schools
5600 East Capitol Street, NE, Capitol Heights neighborhood, DC
The See Forever Foundation administers four educational programs: The Maya Angelou Middle School, High School, Young Adult Learning Center, and the Academy at New Beginnings (which serves incarcerated young men). The first three programs are located at the address above in the former Evans Middle School; the New Beginnings program is located in Laurel, MD at the former Oak Hill Academy.
Although she never lived in DC, Maya Angelou was the inaugural poet for President Bill Clinton in 1993 and was awarded the Presidential Medal of Arts in 2000. The author of seven memoirs, five books of essays, and ten books of poems, Angelou is best known for her first memoir, I Know Why the Caged Bird Sings (1969). She also worked as a dancer, actor, producer, director, civil rights activist, editor, and professor. Angelou lived in Winston-Salem, NC until her death in 2014.
O.B. Hardison, Jr. Reading Series
Folger Shakespeare Library, 201 E. Capitol St. SE, Capital Hill neighborhood, DC
The annual Poetry Reading Series at the Folger was renamed to honor Hardison in 2010. This veritable series has brought poets of national and international renown to DC for over 40 years.
O.B. Hardison, Jr. was a professor of English at the University of North Carolina and Georgetown University, and from 1969 to 1983, he was director of the Folger Shakespeare Library, where he founded the Shakespeare Theater, the Poetry Reading Series, and the program for teaching Shakespeare in secondary schools.
Hardison is the author of two books of poems, Lyrics and Elegies (1958), and Pro Musica Antiqua (1977), as well as multiple scholarly books, including Christian Rite and Christian Drama in the Middle Ages (1965), Toward Freedom and Dignity (1972), Entering the Maze: Identity and Change in Modern Culture (1982), and Prosody and Purpose in the English Renaissance (1989).
Olive Risley Seward Statue
601 North Carolina Avenue SE, Capitol Hill neighborhood, DC
This statue of Olive Risley Seward was created in 1971 by John Cavanaugh, and stands in front of a private home. Seward is the founder of the Literary Society of Washington, a group she created in 1874 with Esmerelda Boyd and Sara Carr Upton that still continues to this day. Originally, they set the membership at 30; it was later raised to 40 members. Members were authors, librarians, educators, historians, musicians, artists, and the clergy, all of high social standing, and all white (with the exception of a few Asian or Latino diplomats). Seward edited the best-selling collection William H. Seward's Travels Around the World (1873). She is best known, however, for her late adoption by the former US Secretary of State under Abraham Lincoln and Andrew Johnson. She was 26 at the time of her legal adoption, but after the death of William Henry Seward's wife and daughter, Seward became his constant companion, and the adoption was made to curtail gossip and to better define their relationship to the public.
Paul Laurence Dunbar High School, DC Public Schools
101 N Street NW, Truxton Circle neighborhood, DC
The first public high school for youth of African descent in the United States was the forerunner to this high school, founded in 1870. Originally named the Preparatory High School for Colored Youth and housed at the Fifteenth Street Presbyterian Church, the school later moved and changed its name to the M Street High School, then changed its name again in 1916 when it moved to a larger location on New Jersey Avenue. A new building was constructed in 2013. During the first half of the 20th century, the school was considered the top segregated high school in the nation, with an illustrious faculty that included Anna Julia Cooper, Kelly Miller, Mary Church Terrell, and Carter G. Woodson. After desegregation, the school's prestige dropped precipitously, and today only about 60% of students graduate.
The school is named for Paul Laurence Dunbar, the first African American poet to gain a national audience. Dunbar lived in DC from 1898 to 1902, working briefly at the Library of Congress. He died of tuberculosis and alcoholism at age 33 in 1906, but in his short life he was remarkably prolific, publishing eleven volumes of poetry, as well as novels, short story collections, and the lyrics for In Dahomey, the first musical written and performed entirely by African Americans to be staged on Broadway. His books of poems include Oak and Ivy (1892), Majors and Minors (1895), Lyrics of a Lowly Life (1896), Poems of Cabin and Field (1899), When Malindy Sings (1903), and Lyrics of Sunshine and Shadow (1905).
Phyllis Wheatley YWCA
901 Rhode Island Ave. NW, Shaw neighborhood, DC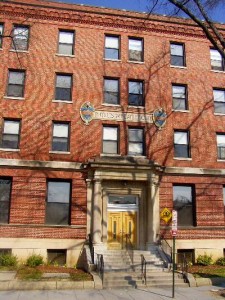 The YWCA was built in 1920, and added to the National Register of Historic Places in 1983. It is no longer associated with the national YWCA, and now serves as a nonprofit independent living facility for "women in transition to prevent homelessness." When it was still a YWCA, however, it was the final DC rental address (in 1924) for Zora Neale Hurston.
The Y was founded at the instigation of a group of twelve upper-class African American women, who gathered under the name the Book Lovers Club. It was named for Phillis Wheatley (note the correct spelling of her first name), the first published African American woman, who was born in Senegal or Gambia, and brought to the US at age 7 as a slave.
Wheatley lived the rest of her life in Boston; although feted while a slave author, after being freed (upon her master's death when she was 25), she was unable to publish, and lived in poverty until her own early death at age 31. Her remarkable book, Poems on Various Subjects, Religious and Moral, was published in 1773, making her one of the best-known poets in pre-19th century America. She never lived in DC.
Rachel Carson Council House
11701 Berwick Rd., Silver Spring, MD
This simple, post-WWII ranch house was designed by Carson in 1956, where she lived and wrote until her death in 1964. The Rachel Carson Council, now housed here, "promotes alternative, environmentally benign pest management strategies to encourage healthier, sustainable living." Not open to the public, the house is a National Historic Landmark.
Rachel Carson, a marine biologist and conservationist, is best known for her book Silent Spring (1962), an expose on the environmental effects of pesticides. She is the author of five other books, including The Sea Around Us (1951), and the posthumously published The Sense of Wonder (1965).
Carson worked for the US Bureau of Fisheries, and the Fish and Wildlife Service, before retiring to write full-time. She is also remembered locally with two schools named in her honor: Rachel Carson Elementary in Gaithersburg, MD, and Rachel Carson Middle School in Herndon, VA. Montgomery County maintains the Rachel Carson Conservation Park on Zion Road in Olney, and is currently constructing the Rachel Carson Greenway Trail, which, when completed, will span 25 miles from Adelphi Mill north to Patuxent River State Park.
Robert and Mary Church Terrell House and LeDroit Park Museum and Cultural Center
326 T Street NW, LeDroit Park neighborhood, DC
One half of a duplex is all that remains, giving this historic home, built in 1894, a strange, lopsided appearance. A fire decimated the other side in the 1940s, but the western half, where the Terrells lived, was saved. The house was willed to Howard University in 1951, with the provision that the Terrell's daughter, Phyllis Terrell Langston, could live there until her death. The university took possession in 1998; the house was listed on the National Register of Historic Places in 1975. The house is under renovation, but a date of completion is unclear.
The house is named for Robert Terrell, the first African American Municipal Judge in DC, and Mary Church Terrell, best known as an activist working for civil rights and women's rights. Terrell was one of the first African American women to earn a college degree, and is the author of a memoir, A Colored Woman in a White World (1940). Terrell served on the DC Board of Education from 1895 to 1906, the first African American woman in the nation to hold such a position. She was president of the National Association of Colored Women's Clubs, and co-founded the National Association of College Women. In 1909, she became a founding member of the National Association for the Advancement of Colored People. She was an organizer for the women's suffrage movement after World War I, and led the fight to integrate restaurants in DC in 1950.
Terrell's journalism was published widely in both the white and black press, in such publications as the Afro-American, New York Age, Washington Tribune, Washington Evening Star, and the Washington Post.
Samuel Gompers Memorial
Massachusetts Avenue at 10th and L Streets NW, Mount Vernon Square neighborhood, DC
The memorial is a major statuary group listed on the National Register of Historic Places. In addition to a seated Gompers, the memorial depicts a range of symbolic figures, including a mother a child, a small boy reading, two angels, and two heavily muscled topless men shaking hands above Gomper's head. In addition, three long quotes from Gompers and the seal of the American Federation of Labor adorn the sides.
Samuel Gompers, the founder of the AFL and its president from 1886 to 1924, started as a cigar maker before becoming a labor organizer. The procedures of collective bargaining that he developed are still in use today. His autobiography, which was published posthumously in two volumes, is Seventy Years of Life and Labor (1925). His papers are preserved in the University of Maryland's special collections.
Theodore Roosevelt Island
George Washington Memorial Parkway, National Park Service
Roosevelt Island features three hiking trails (swamp, woods, and upland) and a memorial plaza with a statue of the 26th US President, and engraved quotes. The island was previously known as Analostan or Mason's Island, and has served as the site of a private mansion and farm, a training site for Union troops during the Civil War, and a picnic resort with a boathouse. Along with Little Island just off the southern tip, the National Park Service site now encompasses 88.5 acres.
Theodore Roosevelt was the author of over forty books. His subjects ranged from nature, travel adventure, American history, and the history of war, to biographies and an autobiography. Titles include: The Summer Birds of the Adirondacks in Franklin County, New York (1877), Essays on Practical Politics (1888), The Winning of the West (four volumes, 1889-1896), The Rough Riders (1899), Oliver Cromwell (1900), Realizable Ideals (1913), A Book Lover's Holiday in the Open (1916), and Fear God and Take Your Own Part (1916). His Autobiography was published in 1913.
Roosevelt first came to DC in the capacity of Assistant Secretary of the Navy (1897-1898). His subsequent offices included New York City Police Commissioner, Governor of New York, Vice President to William McKinley, and, upon McKinley's assassination, US President. He won the Nobel Peace Prize in 1906.
He is also remembered by the nearby bridge in his name, spanning the Potomac River.
Ulysses S. Grant Memorial
Union Square, by the Capitol Reflecting Pool, Office of the Architect of the Capitol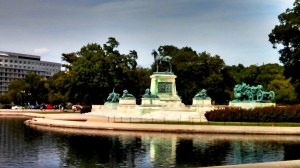 Located at the base of Capitol Hill, below the west front of the US Capitol, a bronze memorial of Grant astride his horse faces a reflecting pool. It is joined by several other sculptural elements: four bronze lions in repose, and two groups of figures: an Artillery Group to the south, and a Cavalry Group to the north. The memorial took artist Henry Merwin Shrady twenty years to complete; it was dedicated in 1922, on the 100th anniversary of Grant's birth.
Ulysses S. Grant was a Civil War General and military commander in the South during Reconstruction, who served two terms as the 18th US President (1869-1877). Although his Presidency was marred by multiple scandals, his achievements include implementation of Reconstruction, fighting Ku Klux Klan violence, and passage of the 15th Amendment granting voting rights to African Americans. His response to the Panic of 1873 and subsequent economic depression was widely criticized, however, and his reputation was permanently damaged by his lack of oversight of corrupt Federal appointees.
In 1884, dying of throat cancer, and hoping to leave a source of income for his wife, he wrote his much admired two-volume Personal Memoirs, which became a bestseller.
Walt Whitman Way
F Street NW, between 7th and 8th Streets, Gallery Place neighborhood, DC
The Washington Friends of Walt Whitman procured passage by the DC City Council of the "Walt Whitman Way Designation Act of 2005," Bill 16-169, giving an honorary designation to F Street NW between 7th and 8th Streets. This block was selected for designation because it was includes the former office of the Bureau of Indian Affairs, where Whitman was a clerk (now the SW corner of the first floor of the National Portrait Gallery).
Walt Whitman lived in DC for ten years (1863 – 1873), serving as a volunteer nurse during the Civil War, and as a federal clerk for the Department of the Paymaster, the Bureau of Indian Affairs, and the Justice Department. During his time in Washington (from the age of 44 to 54), Whitman wrote Drum-Taps (1865), Democratic Vistas (1871), Passage to India (1871), and prepared two new editions of Leaves of Grass (1867 and 1871). He wrote drafts of material that would eventually become the basis for his books Memoranda During the War (1875), and Specimen Days and Collect (1882). It was an extremely prolific period that resulted in almost one hundred new poems and a prodigious number of journalistic essays.
Whitman is now widely considered one of America's greatest poets. He is also remembered locally with a high school in Bethesda, MA named in his honor. Public art installed inside Reagan National Airport's main terminal, and at the Dupont Circle Metro station and Archives Metro station, also quote from works by Whitman.
Woodrow Wilson House
2340 S Street NW, Kalorama Heights neighborhood, DC
Edith Bolling Galt Wilson lived in this house with her husband, the 28th US President, after he retired from the White House in 1921. It is now a museum, with a remarkable collection of the couple's furniture and personal items. Woodrow Wilson is the only President to have made Washington his permanent home following his term of office.
Edith Wilson married twice, first to Norman Galt, owner of a DC jewelry store. She became widowed in 1908, and married for a second time in 1915, during Wilson's first Presidential term. Her second husband gave her full access to Oval Office meetings and decisions, including classified information. When the US entered WWI in 1917, Mrs. Wilson arranged to have sheep graze on the White House lawn and sold their wool. She also volunteered at the Red Cross canteen at Union Station, and instituted days of the week when meat, wheat, and gasoline were not used, to conserve these resources for the war effort. After the Armistice, she became the first First Lady to travel to Europe and meet with royalty and other heads of state.
When the President had a stroke in 1919, Wilson lied to Congress and the Cabinet, telling them that her husband was suffering from "temporary exhaustion." She took over many presidential duties at that time, in what she termed her "stewardship." She was First Lady from 1915 until 1921.
Wilson outlived her husband by 36 years, and was buried alongside him at Washington National Cathedral. She is the author of an autobiography, My Memoir (1938).
Kim Roberts is the editor of the anthology By Broad Potomac's Shore: Great Poems from the Early Days of our Nation's Capital (University of Virginia Press, 2020), selected by the East Coast Centers for the Book for the 2021 Route 1 Reads program as the book that "best illuminates important aspects" of the culture of Washington, DC. She is the author of A Literary Guide to Washington, DC: Walking in the Footsteps of American Writers from Francis Scott Key to Zora Neale Hurston (University of Virginia Press, 2018), and five books of poems, most recently The Scientific Method (WordTech Editions, 2017). http://www.kimroberts.org
Dan Vera is the co-editor of the anthology Imaniman: Poets Writing in the Anzaldúan Borderlands (Aunt Lute Books, 2016), and author of two poetry collections: Speaking Wiri Wiri (Red Hen Press, 2013), and The Space Between Our Danger and Delight (Beothuk Books, 2008). Vera's work is featured online at the Poetry Foundation website and in college and university curricula, various journals, and anthologies including Ghost Fishing: An Eco-Justice Anthology, the bilingual Al pie de la Casa Blanca/Knocking on the Door of The White House: Latino and Latina Poets in Washington, D.C., Queer South, Divining Divas, and Full Moon On K Street: Poems About Washington, DC. A CantoMundo and Macondo writing fellow, he's a recipient of the Oscar Wilde Award for Poetry and the Letras Latinas/Red Hen Poetry Prize, as well as grants and fellowships from the DC Commission of the Arts & Humanities, the Humanities Council of Washington, DC, the Ragdale Foundation, and the Virginia Center for the Creative Arts. His other projects include the small literary presses Poetry Mutual and Souvenir Spoon Books, and co-curating the literary history website, DC Writers' Homes. Born and raised in South Texas, he lives in Washington, DC. For more visit http://www.danvera.com. To read more by Dan Vera: Dan Vera: Winter 2006; Dan Vera: Evolving City Issue; Dan Vera: Split This Rock Issue; Dan Vera's Introduction to the US Poets Laureate Issue,Fall 2009; Dan Vera: Langston Hughes Tribute Issue; Dan Vera: Floricanto Issue.