What follows is an excerpt of an interview conducted on October 5, 1987 for "The Poet and the Poem."
Grace Cavalieri: Do you enjoy reading poetry which is various? Do you also enjoy experimental poetry? Do you also read a little of everything that's going on?
Richard Wilbur: Oh, of other people, yes. Yes, I read here and there, and I like all kinds of things which I'm probably not expected to like. I have pretty Catholic tastes. Critics often put one into a box of one kind or another; put one onto one or the other side of a line they want to draw. And I'm generally associated with words like formalism and elegance and whatnot.
Cavalieri: Well, we're not scared of that at all.
Wilbur: No. Neither am I. The truth is that I, for example, love the poems of William Carlos Williams, and I haven't any case to make against any good free verse writer anywhere. It's a hard job to write an acceptable free verse poem, and I applaud anyone who does.
Cavalieri: There's a wonderful Sufi saying about the arrow shot with truth will hit the target, and I think that when the truth is there in the poem, many ways it can be carried, and it can work in various structures.
Wilbur: That's right. Yes. If it's urgent enough, it'll find its own form one way or another. That's what happens in all of my poems. My poems happen to find their form in meter. Sometimes in rhyme. But, there are other ways of finding form.
Cavalieri: I have seen a poet recently where I suspect he wrote the poem, which was of some length, and then pushed the button on the word processor, which made all the lines go in a certain way. I think, because I tried it on my own. It looked wonderful. I think we're allowed to do almost anything.
Wilbur: Oh yes, there are no rules. There are things of course which are more or less successful. It seems to me that the kind of page you are describing, in which the words are scattered all around like snowflakes, is not likely to sound too good to the ear. It may have more impact on the eye, with its spaces instead of pauses. One thing about concrete poetry which disposes words this way or that on the page, is that it can be very exciting and amusing. It's seldom moving. I think you need the spoken voice for that.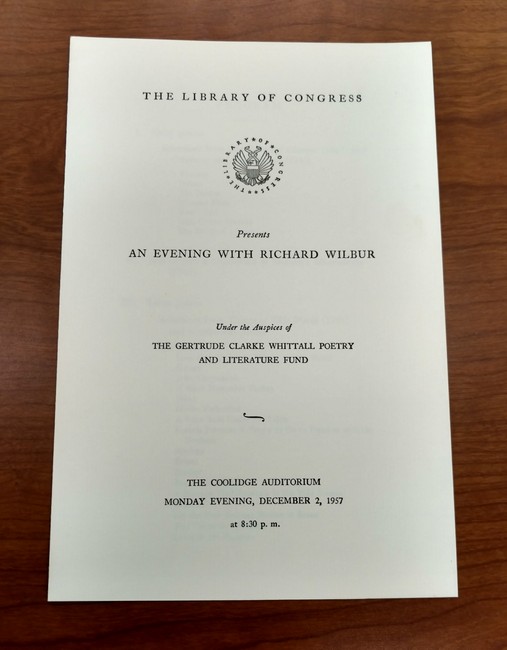 Printed with permission from Grace Cavalieri and Forest Woods Media Productions' "The Poet and the Poem."
Grace Cavalieri's newest publication is What the Psychic Said (Goss Publications, 2020). She has twenty books and chapbooks of poetry in print, and has had 26 plays produced on American stages. She founded and still produces "The Poet and the Poem," a series for public radio celebrating 40 years on-air, now from the Library of Congress.. She received the 2013 George Garrett Award from The Associate Writing Programs. To read more by this author: Grace Cavalieri: Winter 2001; Introduction to "The Bunny and the Crocodile" Issue: Spring 2004; Grace Cavalieri on Roland Flint: Memorial Issue; Grace Cavalieri: Whitman Issue; Grace Cavalieri: Wartime Issue; Grace Cavalieri: Evolving City Issue; Grace Cavalieri: Split This Rock Issue; Grace Cavalieri on Ann Darr: Forebears Issue; Grace Cavalieri on "The Poet & The Poem": Literary Organizations Issue.